Add a Rust Stream
As a streamer, you have the possibility to add a live stream that will be announced to everyone visiting this page. You just need to add the link to an active YouTube or Twitch stream and select the language you are streaming in. The according notification will then be added to the frontend for visitors matching the given language.
Support Just-Wiped.net
If you, as a streamer are convinced of just-wiped.net, we would appreciate, if you tell your viewers about it. In exchange you get this continuous free advertisement for your stream.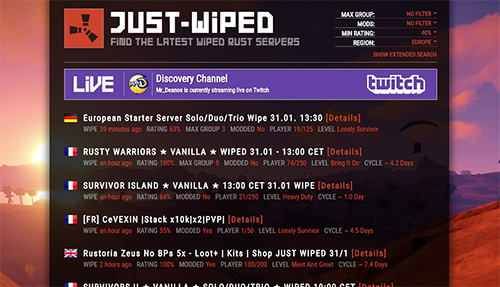 Preview of a Stream Notification
Conditions
Here are some conditions regarding the listing:
You can add any of your Rust streams.
The maximum time a stream is listed will be 2 hours.
You are only allowed to add a stream once every 12 hours.
If streams overlap, they are being listed randomly.
You have to select the language of your stream. Non english streams are only shown to people speaking that language.
There is no right to get listed. The stream can be removed any time.
If you seem not to support just-wiped.net in your stream, we prefer other streams for the listing.
Add Your Stream