Support Us
If you like Just-Wiped and want to support this project, we offer various ways to do so. Check the following information, that fit you the most.
Server Owners
As a server owner, you have to possibility to get featured on this page. This includes two exclusive extras:
Having your most recent wipe listed on the landing page
Wipes being highlighted in the server listing
There are two options to get featured:
Add your servers Just-Wiped URL as your server URL
Add this supportive text to your server description:
This is how a featured server gets highlighted on the site: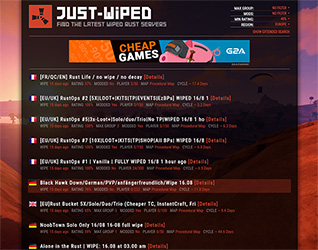 Streamers
Streamer have the possibility to add their streams from Twitch and Youtube.
To add your stream, head over to the stream signup form and add your stream url. It is shown for 2 hours on the landing page or on top of the server listing.
This is how a stream gets listed on the site: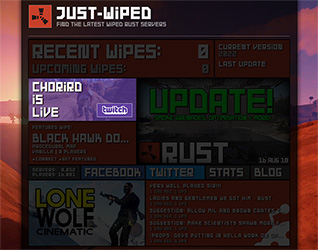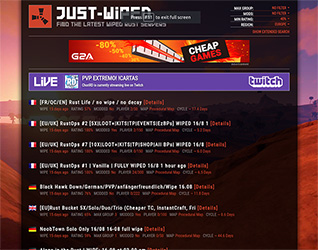 YouTubers
YouTubers can be added to a separat listing. This shows their latest Rust video and some other channel information. The latest videos will be featured on the landing page as well.
In order to get listed as YouTuber, we ask you to make a short video about Just-Wiped.net or mention in it in one of your videos.
If you want to get listed, mail to mail@just-wiped.net.
This is how a recent video and channel is listed on the site: